SAEAUT EnergyMA
Energy Consumption monitoring and analysis
For whom is it dedicated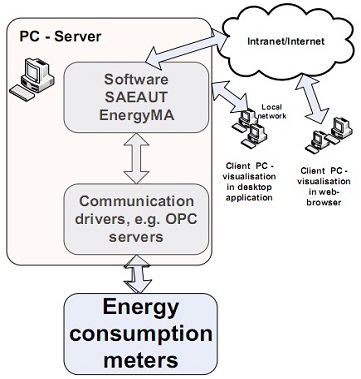 Energy and facility managers
Integrator companies
How it can be useful for energy and facility managers
Overview of the actual energy consumption
Overview of the historical data
Cost information
Tools to analyze consumption and costs
Predictions of the consumption and costs
Reporting in different formats, for different time spans, their management and printing
Sending of alarms for defined conditions by E-mail or over SMS
Comparing of consumption on different places
Comparing of actual consumption with average and maximal consumption for different time ranges
Archiving of the maximal and average values daily, weekly, monthly and yearly as well as for every week day.
Defining of tariffs
Access to data in LAN and over Internet
Numerical and graphical data views
Grouping of data according to the different criteria
Back up of the configurable data
Binary values views
Visualisation according to the place and a consumption type
Analytical functions preconfigured according to the your needs

on line – according to the data saved in system
off line – according to the backed up data and reports in MS Excel™ format. Many different numerical and graphical data views

Fast solving of your specific requirements
Extensive basic functionality in fixed price
Budget-priced accommodation to your specific requirements
Possibility to monitor an energy consumption from renewable and unconventional energy sources
Tree view structure of the actual and historical data view. We create this structure for you. You can make its changing and modification also yourself, if you like.
Optionally, DDE communication with different applications, e.g. with MS Excel
How it can be used by integrator companies
Connecting of energy meters communicating with whatever communication protocol – independence on hardware vendor
Laborious programming is replaced by configuring and parametrizing
High flexibility – you can program your own configurable modules – enhancing of the base system according to your needs. Except of configurable database commands, you can use also SQL to provide more complex database functionality.
Enhancing of standard visualisation - standard data views, an application specific visualisation using whatever HTML editor.
You can use own visualisation software, e.g. MS Excel™, MS Visio™, MS Silverlight™ and others communicating over OPC, web services or DDE and even using different proprietary communication protocols.
Possibility to optimize by partitioning of on-line analytical functions between application for data collection and handling and the visualisation application.
Efficient tool using MS Excel to configure different off line analytical functions
Object of delivery
For energy and facility managers

completed software application providing the data collecting, handling and the visualisation accommodated to concrete requirements, taking into account points of supply, their placing, used energy meters and communication protocols

licences for base software for data collecting and handling
licence for an efficient off line analysis software tool

to the communication drivers specific for connected energy meters
documentation to the base software
application specific documentation

For the integrator companies

Developer's licences for base software

for data collecting and handling
visualisation web application
visualisation desktop application
licence for efficient software tool for off line analysis

budget priced licences to the base software for using by end customers
documentation to the base software
Support
For energy and facility managers

by parameterization of the system
by creation of off-line analysis
support service according to the dedicated service agreement

For integrator companies

by parameterization of the system
by programming of own configurable modules
overtaking of the some new parts development of the system according to your requirements
by visualization application development
pre-paid packages of the software support
SAEAUT EnergyMA components
The package consists of our next standard products:
OpcDbGateway for data collecting and handling,
SAEAUT OPCWebExplorer for visualisation over Internet and intranet ,
OPCAdapter for easy visualisation in LAN..
These products are preconfigured for a standard monitoring and on-line analysis of the energy costs. Energy meters are connected to the system most often over OPC servers from other vendors, or by communication drivers programmed such a way to be able to use them as additional configurable modules for OpcDbGateway™. Extensive off line analysis can be done using software tool Energy Lens™ running within MS Excel.